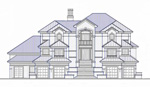 Stevens Residence
Lely Barefoot Beach, Florida
Feinstein Residence
Quail Creek, Naples, Florida
Why Choose Us to Create Your Dream Home?


We have designed upscale homes for football star and NFL Network analyst Deion Sanders and baseball star
Mike Greenwell of the Boston Red Sox, as well as homes and additions for any-size family.
We are professional residential designers with over 20 years' experience creating custom homes for clients,
builders, and developers.
We bring true construction experience to the design phase, with first-hand, onsite experience in the construction
of fine homes.
We know what makes a house a home. We have the design knowledge that's required in creating a home that is
perfect for each family; a home that will last a lifetime; a home that meets ~ and exceeds ~ each client's needs,
dreams, and desires.
We possess the insight and communication skills to understand the client's home-design goals; the ability to
clearly convey the information between client, designer, and builder; and the professional skills to turn your dreams
into reality with crystal-clear perfection and beautiful home plans.
Contact us today at don@linsenbach.com. We will be happy to discuss your needs and start turning your dreams into reality,
in a professional, caring, and truly knowledgeable manner.
We look forward to talking with you! To View Some of Our House Plans, Click Here. To See Some of the Homes We've Designed, Click Here.



Home Gallery | Stock Plans | About Us | Contact Us | Home